Last weekend we had family from out of town come to visit. We looked for Portland-y things to do with them and the Portland Winter Light Festival came up. There were different hubs around the city, but we chose the OMSI one (Hub A) since it was the most consolidated and I wanted to eat at Montage.
My friends and I used to go to Montage all the time. The food is BOMB and they wrap your leftovers in tin foil animals. My suggestion: Old Macaroni with Andouille Sausage. So so so good!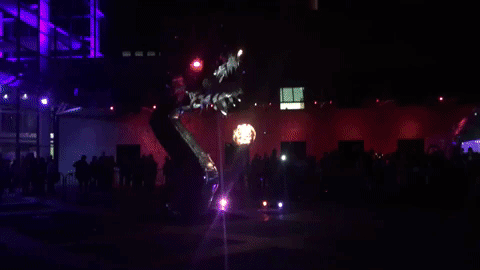 Tip if you want to check out the light fest next year: go early! Like get there as the sun is going down. We went after dinner and it was PACKED. We almost gave up looking for parking and went home because the traffic was so bad.
Some of the displays are interactive and the line goes quickly if you want to check them out. I was the only one who went through any and I only did one so I wouldn't hold up our group for too long. Because of the crowds, it took awhile to walk the path behind OMSI along the waterfront, going south toward the MAX station. But it was worth it for the gorgeous view and to see some cool stuff.
I wish we had killed a little more time between dinner and getting to the MAX station. There were food carts set up and I was dying to try some Moonstruck hot chocolate and Pip's Doughnuts. Oh well, I'll just go visit their locations.